Product
Animal Diagnostics
Vcheck M
Vcheck M10
qPCR(Real-Time PCR) that can perform molecular analysis of DNA to detect infection at field location
Product Features
-qPCR + LAMP in One System

-Simple All-In-One System

Coventional PCR and nucleic acid extractor along with all the expensive lab. equipments
and reagents are replaced with M10 and a single room temperature storable cartridge.

-Multiplex test & expendable set-up

Single cartridge that can test upto 12 different diseases.
Upto eight M10 module can be connected, with it's small size optimizes workspace.

-User-friendly 3 Step test process

Sample prep. ▶ Insert sample into cartridge ▶ Test
with M10 User-friendly 3 Step which can be performed at any veterinary.

-Fast result, fast treatment

In comparison to conventional usual lab. tests which take upto 3 working days.
M10 only takes 1 hour for the test result at any veterinary.
Specification
Power requirements : AC100~240V, 50/60Hz
Power requirements : Temperature -10-50°C (-4-122°F) / Humidity 0-93%
Test method : Real-time PCR, LAMP
Power consumption : Console : 84W Module : 84W
Memory : 5,000
Communication : Ethernet, USB, d-sub
Fluorescent channel : 3 channel (FMA, HEX, Cy5)
External interface : LAN, USB (x4)
LIH/HIS : HL7 PCD-01 profile support
Screen : 10.1 inch touch screen
Size : Console : 17 x 23 x 39 cm Module : 14 x 33 x 32 cm
Weight : Console : 2 kg Module : 7 kg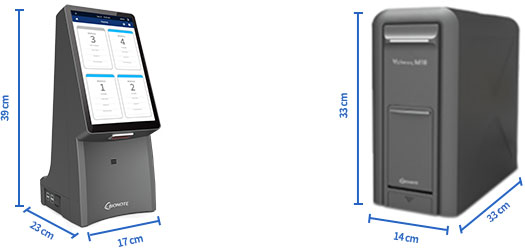 -Order Information
Product No.

Product Name

Operating Conditions

Package Unit
Download
-Software Update