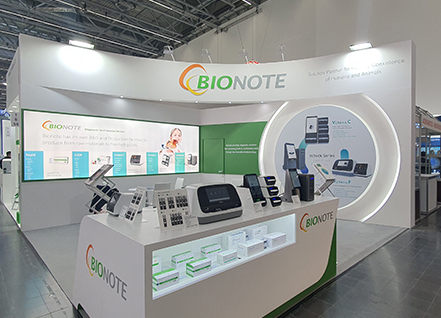 Global leader in providing biological raw materials and animal diagnostics company BIONOTE, participated in the biggest medical diagnostic exhibition in the world, MEDICA, which took place on the 14th to 18th of November in D
ü
sseldorf, Germany.
MEDICA is a exhibition that has been taking place at Messe Düsseldorf GmbH for over 40 years and is known as the biggest exhibition in Europe for the medical diagnostic field. Even during the height of the COVID-19 pandemic last year, over 3,500 companies from 66 countries participated with 150,000 visitors from 150 countries visiting. Messe Düsseldorf has 17 halls for exhibitions, each hall for a different category of the medical field. The categories include IVD kits, diagnostic imaging, lab equipments, amongst many others.
This is the first time that BIONOTE has participated in the MEDICA exhibition and they introduced their newly released Vcheck M, cutting edge POC PCR analyzer, as well as their main products, Rapid Diagnostic kits, Vcheck F and ELISA diagnostic kits. Furthermore, they also introduced their Vcheck C, a clinical chemistry analyzer, which will be released in the first quarter of 2023.
By participating in the exhibition, BIONOTE was able to introduce their excellent product concepts and future market strategies for future products, to visitors from all over the world, and to raise awareness of BIONOTE. It was a successful exhibition in terms of confirming BIONOTE's potential as a global total diagnostic solution provider.